Interview with a Ladyboy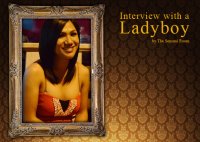 Interview with a Ladyboy

You can't say that we at the Sensual Room don't go out of our way to give you a good story. Recently we travelled all the way to Thailand just to get you the first installment of our interview series....well maybe we got up to other stuff as well.

Ladyboys, often known as 'the third sex', are born male but say they possess a female heart. So, while still having (and keeping) a penis, a Ladyboy will generally have the outward appearance and mannerisms of a female. The Thai society is very tolerant and understanding and Ladyboys are gradually gaining acceptance, with many holding leadership and management roles in industry.

In this interview you will meet May. She works at a bar in Chiang Mai. Often people think a Ladyboy is a 'man in drag'. Nothing could be further from the truth. May sees herself as a lady and in fact she was a lot more ladylike than a lot of females we've known. She was polite, funny, courteous and very well spoken. Her physical appearance and presentation was first class.

During the interview May was very candid and truthful and was prepared to answer all our questions. So forget everything you thought you knew about Ladyboys and hear what really goes on.




How old are you May?
I'm 28

How old were you when you knew you wanted to be a Ladyboy?
I was eight. I would wait until my mum would leave the house and I would try on her clothes and use her makeup. I was born the wrong sex you know? I like to be a lady.

What did your family say about you being a Ladyboy?
My mum did not complain but didn't like me stealing her clothes and makeup. My mum wanted a daughter so she is OK with it. My brother is OK too.

Is your brother a Ladyboy as well?
No, he is in the army. No Ladyboy there he he he...

Do you prefer to be seen as a lady and not just a Ladyboy?
I am a lady; Ladyboys are just like ladies, not like a man in a dress. I like to take care of myself, teach myself hair and makeup. We are not men but from the waist down we have men area ha ha ha. I like men to see me as a lady. I look at other ladies and think "they not take good care of themselves". We sit in this bar and watch them and think they should look better, more like a lady. Ladyboy are more like ladies I think than ladies. Men like high heels and stocking. I like perfume. I am a lady 100% of the time.

Would you every get the chop?
No not me, just boobs. Men with me like penis. If I had no penis I would just be like a normal lady, but Ladyboy is different that is why men like Ladyboy.

Do you take hormones to look more like a girl?
I did sometimes. I don't want muscles but hormones stops my cock working, no erections makes it not good for working. Not taking hormones now. I have a nice shape now and don't need to shave (showing her beautiful smooth skin)

How do you hide your man parts?
You cant see where it is meant to be.
Very tight underwear. I tuck it underneath so you cant see anything but difficult to wear g-string. Nice yes? I look like a girl? (shows me photos of her in a bikini)

Have you always lived in Chiang Mai?
I lived in the East Chiang Mai area.

Did you live on your own?
No I lived with other people. It cost 1000Baht ($33 Au) a month for my room and I had to share a bathroom. I lived on noodles so I saved my money to send it to my brother and grandmother. I would send the money so he could go to school. I now have land but my old uncle lives there. He is not well, he drinks. It's not good so I let him stay. I send money and visit sometimes.

Have you always worked as a Ladyboy?
No, my first job was as a housekeeper when I was 15. I moved to Chiang Mai when I was 20 and worked as a waiter. I didn't like it because I had to dress like a boy and cut my hair. I like my hair long not short. I was sad because I wanted to dress like a woman but I need to earn the money. Ladyboy earns more than a normal job. I got to buy boobs.




How many Ladyboys work in this bar?
Six of us are Ladyboys, the sexy ones ha ha ha...But two women work here too.

How long have you worked in this bar?
One and a half years in this bar. I used to work on the street. The street is busier but a bit dangerous. We have to run from police. A bar is more safer.

How do you get paid?
I entertain men while they are in the bar. We play pool or other games or just sit and talk. When he buys drinks, 65B ($2.20 Au) goes to the bar and 100B ($3.30 Au) goes to me. I keep them happy. If they want to take me out of the bar the price is up to me.

How many men per night do you entertain?
It depends...if I stay in the bar it can be around 2 or 3, but I would say an average of 1 if they take me out of the bar. Maybe 7-10 men a week.

How long do men buy your time for?
Depends. Sometimes 20mins or all night, depends on what they want me to do. Some want blowjob and some want all night and I stay over. Many men are lonely and want someone next to them.

What do you prefer? A short time or overnight?
I prefer a short time. If they are sexy man I like long time.

What do the men you're with usually ask for?
First thing they ask is "are you a lady or man"? I say lady.
But after that mostly blowjob, fuck both ways..stuff like that. Mostly fuck me. I ask some more confident men if they want me to fuck them too.

How do the men treat you? Are the respectful to you?
Mostly yes, I am treated well by men. Some guys have been on drugs, I don't like that. I don't like anything drugs. I have had some that don't pay. I have a shower in the morning and they run. I come out and they are gone.

Are the men that want to be with you gay or straight?
Always straight, not gay men. Gay men don't want Ladyboy. Most straight men have girlfriends or wives and children. They just want something different with Ladyboy. Ladyboy understands man better than lady. I know what men like he he he.
If I was with a gay man he has to look like a man, strong man. I don't like very gay man.

What do you charge?
What I want! If old man I charge 1000B for a short time. I don't like old man, not sexy. All night or overnight I charge 2000B ($66 Au). One Aussie paid me 10,000B ($330 Au) for a night. He was drunk and confused by Bhat (Thai dollar). I not complained ha ha ha...

Have you ever been with a woman?
No never, I won't (face screws up again). I don't like that at all.

Do women want to be with Ladyboys too?
Sometimes, I have couples ask to be with me. The ladies not to touch though (screws up her face). I don't like that. But ladies on their own...no, they don't want to be with Ladyboys.

Do all men who spend time with you want sex?
Umm not always, but mostly yes (cheeky laugh)




Do the men want to do things with you or get you to do things to them?
Oh the man wants to do things to me. You know, like 69 and fuck my ass.
They want blowjob and 69 from me. I sometimes ask if man wants me to fuck them in the ass, some say yes. I use gel on the mans ass. I am very good. I changed one man to gay and made another couple get a divorce after the man was with me (nodding her head proudly).

What nationality comes to you the most?
Umm any really. Italy, Germany and England like Ladyboys the most but French is easy to convince to come with me.

What is the weirdest thing you got asked to do?
A man asked me to pee in his mouth. Did you do it? (laughing) Yes, I did it ha ha ha. Another man asked to pooh in his mouth. I didn't do it. I don't like things like that, too dirty for me. One asked to spit on him, I don't know why ha ha ha. I don't swallow either, I don't like it (screws face up again). But if man wants to swallow me, that's OK, I don't mind ha ha ha...

Do you use protection when you have sex?
Yes, always! But some men ask if they can have sex without. I tell them they have to.

What about you, what do you like men doing to you?
I like the man to fuck me hard, not to feel precious. I like it fast, slow make me feel like I want to shit. Slow hurts, hard is good. I would like 2 men one day.

Do you like big or small cocks?
I like big (big smile).

Are your friends Ladyboys too?
Most yes, but my best friend is a man.

What do you do when not entertaining men?
I like to go to the lake with my friends, eat food at restaurant and have fun.

Do you have a boyfriend?
No not now.

Were the men you dated gay or straight?
Straight. My ex boyfriend only dates Ladyboy now. Three men has asked me to marry him. I said no, they not the man for me.

Why did you split up?
He lived is Switzerland. He fly me there but when I was there it's not what I want. I was bored with him.

Would you like to marry?
Oh yes, I would like to marry. My friend got married and moved overseas.

What is your dream man?
Not fat, I don't like fat. Older than me, maybe around 35-47 would be good. I like the fit and healthy man and tall. I don't like controlling men, I like to be myself. He has to be friendly to my friends too. I like men from Israel, they are sexy the way they look. I don't like shy man. Some men are boring, I don't like boring. Tall dark and handsome yes, and not be with other Ladyboy.

Do you want kids?
No never. I don't want people to pity them. Like school, I don't want people to talk about them or bully them because I am a Ladyboy. It's not fair and I wouldn't do that to the kids.




After MANY laughs with May, her and her friend Quan informed us (if fits of laughter) that "Thai or not, you must try".
Thank you May for a great night of laughs. You are a lovely lady and it was a pleasure to meet you.
Posted By on 29th April 2013
Updated : 23rd August 2013 | Words : 1857 | Views : 13090
Comments
© Beautifully Bound Since 2012