BDSM Safety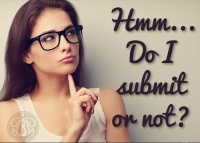 The first thing to understand is an experienced Dominant (I am using the term Dominant to encompass all Tops gender inclusive) will not be in a hurry with the vetting process. They will want to get to know you, should want to know all about you, even have some questionaries to ...
Posted By Sully B on 31st July 2017
Views : 52529
Let me start this off by saying first and foremost. You Do not use ignoring for any period of time as a punishment. In a D/s relationship there are a multitude of ways you can as a Dom, punish your submissive. Whether they be your pet, little, sub, slave, anything. There are ...
Posted By on 30th July 2017
Views : 1148
If you're reading this then you've managed to locate this page which is about the BDSM Lifestyle. Just as you managed to search for this page among the countless of other LS pages you follow or groups you are in etc then you have no excuse to not be able to search information ...
Posted By on 30th July 2017
Views : 1100
Pushing limits is vastly different than NOT adhering to limits and or safe words. Safe words are there for the sole purpose of just that, to keep one "safe" when one is feeling too far out of their comfort level to continue with what is happening. The safe word, once used, is ...
Posted By on 30th July 2017
Views : 861
First lets start with what is a safe word. A safe word is any word you choose to use in order to cease any activity immediately. Secondly, It should be a word that you will always remember in order for your Dominant to always be alert in the event they hear it. There are no ...
Posted By on 30th July 2017
Views : 944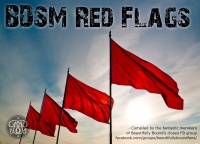 RED FLAG LIST for both Males and Females entering into the BDSM Lifestyle- Compiled by the members of Beautifully Bound's closed FB group. This list will grow as time goes on. Sex talk strait up Demanding straight off that you call him or her by certain titles Asking ...
Posted By Sully B on 24th January 2016
Views : 4466
I really at this point shouldn't be shocked by my inbox......Yet I am I have men who are old enough to have lived life and experienced society and how it works sending me the most ridiculous messages. So I ask the question time and time again 'Why do you think that's acceptable ...
Posted By Sully B on 24th December 2015
Views : 1470
Consent is one of the biggest themes of BDSM—if you don't know that, you really need to read up before you pick up a paddle. BDSM is built on a system that is referred to as "SSC". "SSC" stands for "safe, sane, and consensual." Let's ...
Posted By Sully B on 1st October 2015
Views : 1425
There are four types of abuse: neglect, sexual, physical and emotional. While many of us know all about sexual or physical abuse and have a good understanding of neglect, most of us have no clue of the emotional abuse that exists in the lifestyle, and we see it everyday. It exists ...
Posted By Sully B on 8th April 2015
Views : 1575
Post Topic
You must be registered to submit a post within the Beautifully Bound Blog. If you are already registered, please login. Alternatively, register now for FREE.
© Beautifully Bound Since 2012