Interviews
Here at Beautifully Bound, we love learning about the private lives of others.
No two people are alike, just like no two relationships are alike. What might seem completely normal to one could be totally bizarre to another and really, who are we to judge...we can't, there are so many variations of normal.
In our series of interviews, whether it be a Ladyboy, Mistress, Drag Queen or a plain old every day couple, we will celebrate ALL kinds of normal.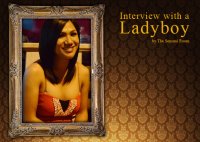 Interview with a LadyboyYou can't say that we at the Sensual Room don't go out of our way to give you a good story. Recently we travelled all the way to Thailand just to get you the first installment of our interview series....well maybe we got up to other stuff as well.Ladyboys, ...
Posted By on 29th April 2013
Views : 13279
Post Topic
You must be registered to submit a post within the Beautifully Bound Blog. If you are already registered, please login. Alternatively, register now for FREE.
© Beautifully Bound Since 2012