Anal Beads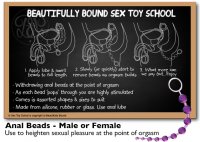 How to use Anal Beads
This week's instalment is for the guys and the girls and it involves your butt. Did you know there are thousands of nerve endings around your anus? And these nerve endings can create incredible pleasurable sensations when stimulated, especially at the point of orgasm. (There is also the psychological taboo that anal sex is 'naughty' that heightens the excitement of anal sex).

If we've piqued your curiosity we suggest you start with anal beads for a gentler, less invasive introduction to backdoor sex – check out the image to see what anal beads look like.

You see, it's the stretching of the anus that causes the desired sensations, so as each bead 'pops' through you are stimulated. Women especially report that slowly withdrawing anal beads at the point of orgasm really heightens the big 'O' for them. Men enjoy it while receiving a hand-job or oral sex from their partner.

As with any backdoor activity lots of quality lube is essential. The butt is not self lubricating! So lube up the anal beads and the anus. Go slow and use more lube as required. And most importantly don't let your beads touch any other body parts and wash them really well with anti-bacterial soap when you're finished.

You can find our Anal Beads here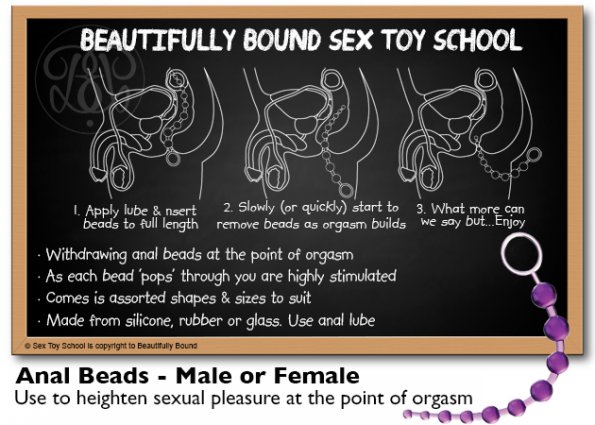 Posted By on 8th March 2013
Updated : 27th November 2017 | Words : 220 | Views : 8659 | Comments : 3
3 Comments
1)
This is Really a Beautiful Post. Thanks for writing about this extremely important issue.
Posted By Deep Singhania on Wednesday 25th October 2017 @ 17:21:22
2)
Stellar work there evereony. I'll keep on reading.
Posted By Ellyanna on Thursday 9th April 2015 @ 16:14:03
3)
This post is worthy of appreciation, looking forward to more exciting!
Posted By swarovski jewellery on Friday 20th March 2015 @ 12:34:35
Comments
© Beautifully Bound Since 2012