Romance
How to maintain romance in a long term relationship. Candles, massages, cuddles, appreciation and so much more play a part in romance.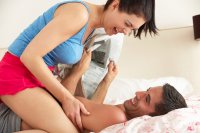 A common complaint amongst couples is that the romance has gone out of the relationship over the years. You become familiar with each other, get stuck into a boring sexual routine: then add a couple of kids to the mix, a mortgage and a house to clean….no wonder sex once ...
Posted By on 27th February 2013
Views : 2048 | Comments : 1
Post Topic
You must be registered to submit a post within the Beautifully Bound Blog. If you are already registered, please login. Alternatively, register now for FREE.
© Beautifully Bound Since 2012